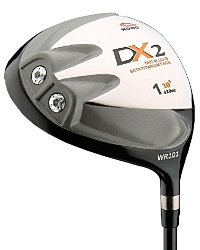 All swing is more stable and fluent --
The new HONO's drivers for ease of play and explosive force was born based on an combination of adjustment upon the Swing Weight by HONO's club designers according to the weight and thickness of the clubhead designed, of adoption of the tailor-made 100% graphite shaft for the HONO's drivers and incessant testing by many professional golfers.
Greater forgiveness on mis-hits --
New 460cc head size delivers serious performance with maximum forgiveness .CNC Milled Beta titanium Face (Forged) increases initial ball velocity at every point on the club face.
Straighter and Far ball flight --
New YP-60019 features a deeper, lower center of gravity that redounds to generate high trajectory, high initial ball velocity and low spin rate for greater distance and stable direction.


¡@
Item No.
BYP-WR101
Head Volume
420cc
Material
Beta Titanium
Shaft
HONO 100% Graphite shaft
(Special Light) - SG for Shaft
Shaft Flex
L , A , S , R
Grip
BYC-I104-1 lightweight
Gender
Mens
Hand
RH
Flex

Loft

Lie

Length

Weight

Swing

L

12.5¢X
55¢X
44''
290g
C4

¡Ó

1

A

12.5¢X

55¢X

45"

292g

R

10.5¢X
55¢X
45"
300g
D0

¡Ó

1

S

10.5¢X
55¢X
45"
310g
D1

¡Ó

1

R

9¢X
55¢X
45"
300g
D0

¡Ó

1

S

9¢X
55¢X
45"
310g
D1

¡Ó

1

¡@