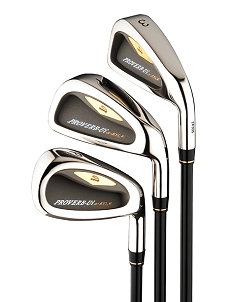 More lower center of gravity – extremely easy to hit for the golfer!!
Designed for ease of play --
The new HONO's irons for ease of play and explosive force was born based on an combination of adjustment upon the Swing Weight by HONO's club designers according to the weight and thickness of the clubhead designed, of adoption of the tailor-made 100% graphite shaft for the HONO's irons and incessant testing by many professional golfers.
Excellent feeling at impact--
The unique "X" type weight device, positioned on the back of the clubhead, which not only makes the center of gravity to the back of the club unaffectedly, but also the structure of the clubhead is strengthened. The solid feeling at impact can be achieved.
Straighter and Far ball flight --
The new HONO IR-600 features deeper center of gravity that redounds to generate high trajectory, high initial ball velocity and low spin rate for greater distance and stable direction.
Progressive Offset --
Iron head designed in which longer irons have more offset and shorter irons have less. More offset is featured in long irons as offset tends to eliminate slicing and helps to get the ball airborne, qualities that help most players hit the ball straighter.
Greater forgiveness on mis-hits
For the rounded and wide sole design, the stability and distance at impact would not be affected, even if the clubhead touch the ground.
Enlarging the sweet spot --
The clubface features a large head with a larger sweet spot and massive MOI (moment of inertia) for greater forgiveness on mis-hits.