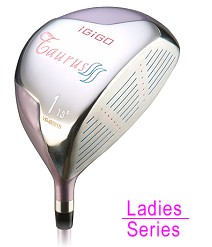 All swing is more stable and fluent for Ladies --
The new HONO's drivers for ease of play and explosive force was born based on an combination of adjustment upon the Swing Weight by HONO's club designers according to the weight and thickness of the clubhead designed, of adoption of the tailor-made 100% graphite shaft for the HONO's drivers and incessant testing by many professional golfers.
Perfect control and distance --
The clubface has high coefficient of reverse(C.O.R), which make the flight distance up to the furthest and more stable direction.
Greater forgiveness on mis-hits --
The new HONO YP-60018 features a large head with a larger sweet spot and massive MOI (moment of inertia) for greater forgiveness on mis-hits.
Excellent controlling performance
The unique track design of the clubhead not only reduces the acreage contacting with the ground and friction, but also can make it easier to square the clubface and achieve straight ball flight.